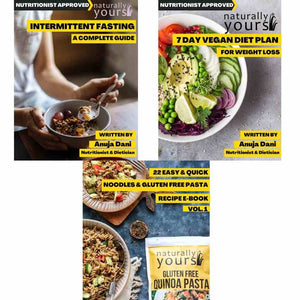 Order On
WhatsApp
This combo contains 3 amazing E-Books.
1.  22 Easy & Quick Noodles Pasta Recipe E-Book - Vol 1
A must-have recipe ebook with simple yet lip smacking recipes specially created by our team of master chefs. 
Try out our different recipes to enjoy your favorite noodles and pastas with a unique twist each time. All of them are easy to prepare and require simple ingredients. 
2.  7 Day Vegan Diet Plan E-Book : For weight loss - Nutritionist Approved
An easy and practical diet plan which can be included in your day to day life. It has been specifically compiled keeping Indian cuisine in mind by Ms Anuja, who is an established Nutritionist, Dietician & Diabetes Educator.
3.  

Intermittent Fasting : A Complete Guide E-Book

In recent years, Intermittent fasting has gained popularity. It is a consistent cycle of specific periods of eating and periods of fasting and is adopted by people who are looking for weight loss and to become healthier.

The role of this E-Book is to educate you on everything about INTERMITTENT FASTING. It is written by Ms. Anuja Dani who is an established Nutritionist, Dietician & Diabetes Educator.

IMP : After you place the order, you will get the download link for the electronic book on your mail within 10 minutes as well as on the order confirmation page on the website.
HEALTHY NOODLES.
SIM0LY LOVED ALL THE VARIETIES OF THESE HEALTHY NOODLES. WILL BE BUYING THEM AGAIN & AGAIN. ESPECIALLY LOVED THE RED RICE NOODLES . HAS A VERY NUTTY FLAVOUR. WOULD HIGHLY RECOMMEND THESE & THE EBOOKS TO ALL WHO LOVE EATING HEALTHY!!!!